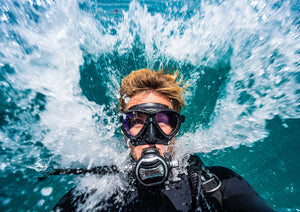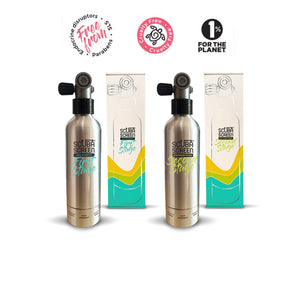 No Shipping costs
That's right, all of your shipping costs to continental USA are on us!
What's in you suds?
The chemicals in your shower suds eventually flow into the ocean. Make the change to reef-friendly products to help limit your impact on these fragile environments.
Make the change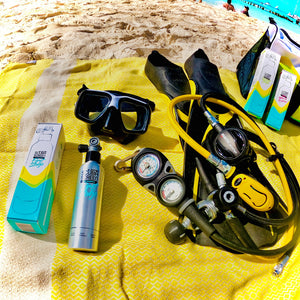 Earth Kind
ScubaScreen products have been designed to be as kind to our planet as possible. From organic inks to our infinitely recyclable aluminium bottles, we have you covered! We've even included a micro pump on all of our products to reduce product wastage!
Invigorating Mojito Scent
Using only essential spearmint and tangerine oils, our eco-haircare range has the most delicious mojito scent.
Beach Bar Memories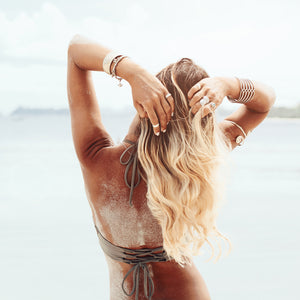 Fresh and Salt Water
Specially formulated to be used in both fresh and salt water. Perfect for use at the beach, the pool, on holiday or at home.
Beach Hair
TRUST WHAT'S IN YOUR TANK

ScubaScreen is committed to making cosmetic products that delight our customers, conserve the reef and the environment.
Simply put, all of our products are:

Human Happy
Eco products that don't compromise on function
Reef Friendly
Designed to protect the delicate corals and reef that we love

Earth Kind
From manufacture to delivery we strive for greener solutions
Look out for the badges on your tanks to see how we've developed our products to align to these principals.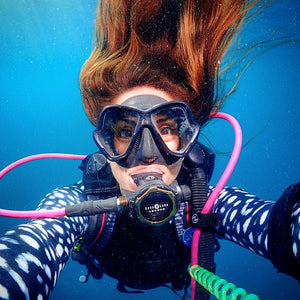 THE PROBLEM
Chemicals in personal care products harm the corals and marine animals.
Ingredients that contain endocrine disruptors and parabens cause damage to the reproductive organs, reducing the ability for ecosystems to regenerate.
THE SOLUTION
We worked for over 5 years with formulators from across the world to produce products that are safe for humans, the reef and the wider environment.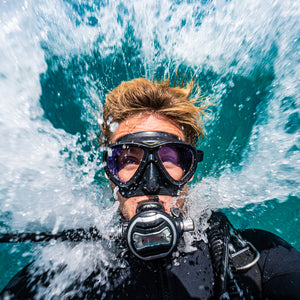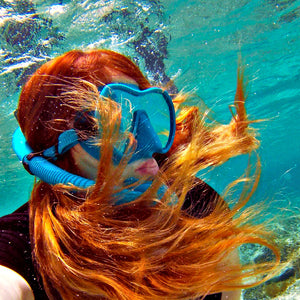 THE CHANGE
Our eco-haircare range is now ready and our eco-sunscreen will launch in November 2023!
Live and play in the sun and the sea with a clean conscience with ScubaScreen Eco-Cosmetics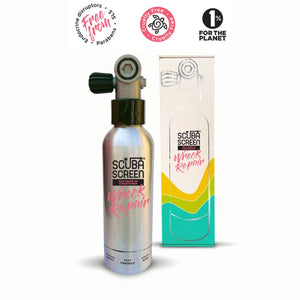 Did YOU KNOW
Your ScubaScreen bottle could save your next dive? Our unique bottles contain a spare O-Ring that can be used if you ever need one for your diving tank. How cool is that?
Save your Dive
Give back with every purchase
ScubaScreen is committed to improving the world we live in. Working with our charity partners 1% For The Planet, we give 1% of our revenue back to marine-based charities.

Follow us on Instagram and Facebook to hear about other charity work, beach clean-ups and community projects we get involved in. By purchasing ScubaScreen products you're having a positive impact.
Shop Now
Coming Soon
ScubaScreen can't wait to launch our Plastic Free Refills later in the year.
We're committed to eliminating any single use plastics.
The aluminium is infinitely recyclable and can be recycled in even the most remote regions of the world where ocean lovers travel. This is a huge improvement on even biodegradable and eco-plastics that still cannot be processed in many places.
Signup to our newsletter below to hear about all of our future product launches.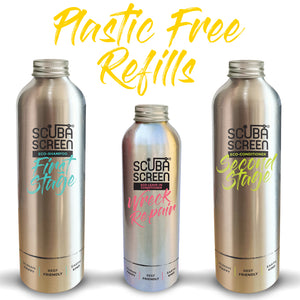 About Us
ScubaScreen was created by divers for ocean lovers. Our co-founders (Frazer and Erica) were witnessing first hand the decline in the coral reefs while they dived and sailed. After intensive research, it was clear that the chemicals in many cosmetics was having a serious impact on the health of the reef.
'We knew we had to do better to protect not only ourselves but the oceans. By formulating incredible products without the use of Endocrine Disruptors and Parabens, we hope to inspire as many people as possible to make the change and avoid these ingredients in the future.'

- Erica (Co-Founder and COO)

Make the change